Save Phace Gen-Y Spiderman Auto Darkening Welding Helmet
Ear to Ear vision Welder Hood with 2nd Largest Viewing Mask for SMAC/MIG/TIG/SPOT – 2 ARC Sensors Solar Powered and Grind Mode
Save Phace 3012336 Gen Y Spiderman ADF Welding Helmet features 180 degree ADF (Auto Darkening Filter) holder lens that has the world 2nd largest viewing area (23 square inches).
It is made from high heat and high impact nylon and is one of lightest welding helmets in the world. With the face forming profile design, it allows you to get into tighter spaces.
It is great for SMAC, MIG, TIG and Spot Welding. The rotary knob can be used to adjust the sensitivity to suit the welding process. To access to the grind mode, you may turn the knob to left. With the adjustable shading level, it can be set manually from 9 to 13 by turning the dial.
9 Point High Quality Adjustable Halo Headgear With Replaceable Sweat Absorbent Headband. With the extensive adjustability, it supports for better fit and comfort. The headgear adjustment allows you to move the helmet closer or further away from your face
It comes with the helmet bag for easy storage when it is used. In addition, to offer extra safety, this welding mask meets or Exceeds ANSI, CE, AUS/NZ And CSA Standards.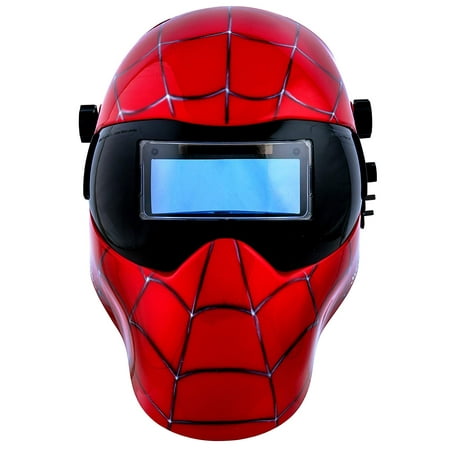 $112.03
as of October 14, 2023 1:31 pm